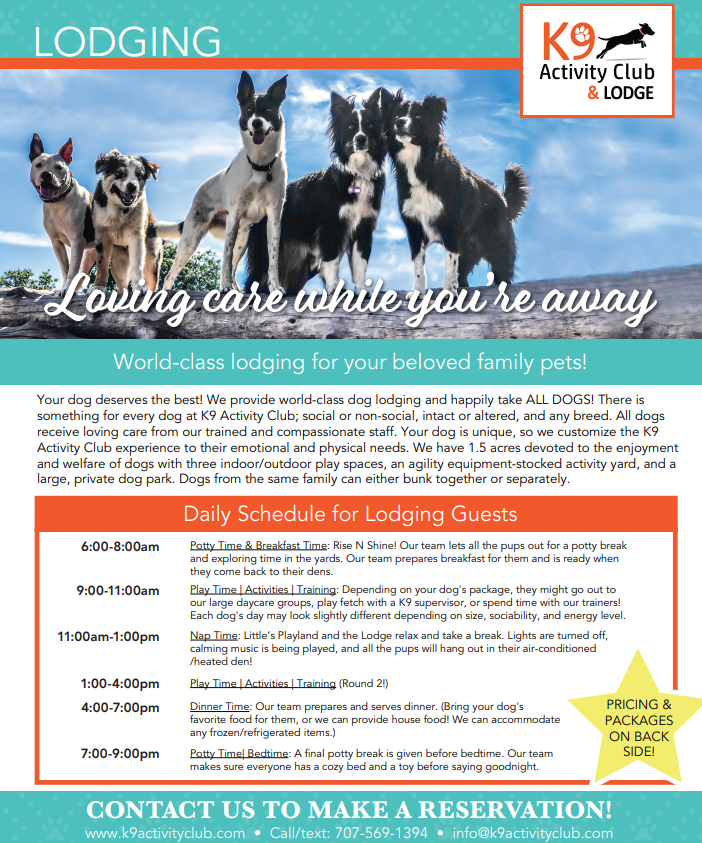 Dog Boarding Hours:
K9 Activity Club is staffed day and night for your pet's safety. Office hours for dog boarding check-in or out is 7:00 a.m. – 6:30 p.m. Monday through Friday. Our Saturday and Sunday hours are 9:00 a.m. to 5:00 p.m. Dogs not picked up by closing will be cared for another night at the same boarding rate. The office is closed on major holidays and no drop off or pickups will be accepted unless otherwise arranged.
Food, Bedding & Toys:
FOOD- Please bring food from home, portioned and labeled with instructions is appreciated. K9 Activity Club food is available for $5/per day if necessary.
BEDDING- We provide soft vet-grade fleece bedding that is properly sized for the dens/runs and our washing machine. Please do not bring bedding from home.
TOYS- It's nice to have something from home so feel free to pack a favorite toy or bone for your dogs stay with us. For their safety, we do not allow rawhide. We are not responsible for lost items.
ALL Dogs need a well-fitting flat buckle collar with a name tag.
Dog Boarding Health Requirements:
Must be current on vaccinations: Rabies, Distemper, Bordetella, Canine Influenza & Annual Negative Fecal Test
Must be 12 weeks of age with 2 sets of puppy vaccinations
Must be in generally good health & in clean condition free of mats so we can effectively monitor the dog's health during their stay
Must be free of pests and on a flea and tick prevention program
Must have signed contract and payment information on file
Dogs arriving with fleas/ticks or needing bathing will be treated/bathed at the owner expense