Meet Jessica and Lulu
Jessica is a single empty-nester whose furry-friend Lulu is like her child. Like many, Jessica feels guilty when she leaves Lulu home alone, and she is willing to sacrifice in order to have Lulu cared for while she is away. Jessica hates the thought of Lulu sitting home while she works, and even more finding someone to care for her during business trips. Jessica always wanted Lulu to be in a setting where she knows Lulu is having fun in a stimulating, safe and nurturing environment. Jessica wants to know Lulu is with someone she can trust to not only keep Lulu safe, but also to keep her happy, entertained and active. Isn't that what you want too?
How She Found Us
Jessica found us through her neighbor, Sally, who has been a long time customer. Sally forwarded Jessica an email that linked to our website which tells a little of our story. As Jessica read the story and saw the heartwarming images, she thought to herself, "This is exactly what I need for Lulu…how do I get started?"
Lifelong Relationships & The Tour
Our best customers become a part of our family, and we become a part of theirs. We're not just another stop on the to-do list. We really care and we get know you and your dogs. We want for you to continue to be our customers through generations of family dogs. Customers for life is our goal.
Because Jessica had an upcoming business trip, she needed to take the tour soon. On the day of her appointment, she pulled in to the parking lot and we were ready.
Jessica was nervous about the tour, but soon, as she watched the dogs happily playing she relaxed. She was greeted by name by the reception staff and welcomed warmly. She was offered a beverage while she waited for her tour to begin. She thought to herself that the place smelled great!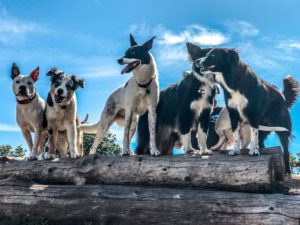 The tour guide arrived in the office right on time and spent a few minutes getting to know Jessica and hearing about Lulu. Before heading out to show Jessica around the play areas and boarding suites, our tour guide gave Jessica a quick history of our facility and explained why we do what we do.
Jessica noticed that our boarding enclosures looked and smelled clean and homey, and our building was in excellent condition. Each staff member that Jessica encountered was friendly and welcoming. Jessica could tell by the condition of the building and the play areas that Lulu would be safe and secure with us.
After visiting each area of the facility, Jessica, very impressed with the cleanliness and professionalism we showed, was already thinking this was the perfect place for Lulu to stay while she was away. Before Jessica left, we offered her a complimentary evaluation and day of play for Lulu.
Her Big Day
The day of the business trip came and Jessica dropped off Lulu on her way to the airport. She said her goodbyes and was reassured by our staff that Lulu would do fine, be happy, and be well taken care of.
As Jessica was on her way, she started to think that Lulu might have more fun during this stay than she would on her trip. She was so relieved to know Lulu was in good hands. When she arrived at her destination, she had already received an email from us with happy pictures of Lulu.
When the trip was over Jessica excitedly came to pick up Lulu. To her amazement, Lulu sat patiently waiting to greet Jessica and did not jump up on her. Jessica decided that Lulu was so happy after her time with us that she begin bringing Lulu to daycare!!
As you can see, Jessica and Lulu have become part of our family and we hers.
Much like Jessica's experience, all of our customers receive the same quality care and services. All owners can make a quick call to receive a report. Depending on the season we have special treats, treatments and services that make coming to stay with us an even more wonderful experience.
---
To Make Boarding with us Even Easier – Take the First Step Now!
We have a two step process for our new boarding guests:
1 As our way of starting the relationship off right, we'd like to give you a free gift: Download our great article "Bad Dog or Bored Dog" to keep your dog safe and healthy – right now, for FREE!
2Go ahead and schedule your "meet and greet" tour. This time is set aside for us to meet you and for you to see the facility, your dog is welcome to come but it's not required. We really want to get to know your dog so we can customize the best stay for them and that's why we don't do PASS/FAIL tests. We'll answer any questions you have and make it a snap to book your dog's first stay with us. You can see first hand how much FUN all the dogs are having and how our professional staff takes extra care to make your dog feel at home! PLUS We are so sure your pooch will love it here, when the tour is over they get a free day pass. Getting to know us in advance can really help your dog feel more comfortable while you're away!
OR
Whether you're away for a few days on business or off on vacation for weeks, we're the safe and stress-free choice for Dog Boarding. Ok let's get you to the Pawticulars (Pricing) so you can decide which options are right for you!